Dispensary Quality Cannabis Gummy Recipe

Did you know that it is possible to make simple dispensary quality edibles, cannabis gummy bears, or other forms of THC gummies, fast and straightforward? Today we reveal the secrets of dispensary recipes and teach you how to make dispensary quality cannabis gummies easily and enhance an edible.
Cannabis Gummy Recipe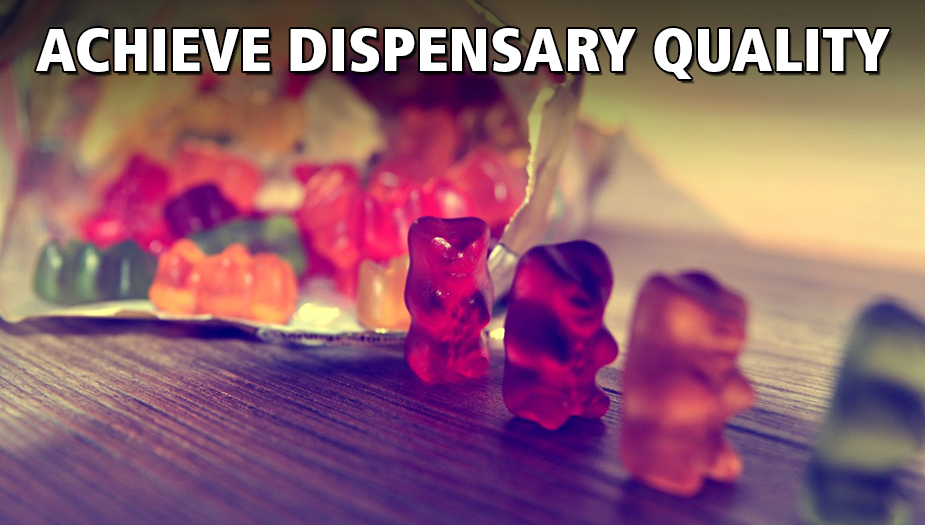 Firstly, welcome to THE cannabis gummy recipe that dispensaries don't want you to see! Why? Above all, there is a general understanding that dispensary quality edibles are more professionally made, potentially more potent, and are higher quality. However, how do you get this their level of quality at home? Don't worry, you can easily create these fantastic treats at home. However, the method to create these powerful candies is a secret, hidden from the general public. On the other hand, not only will we teach you how to use THC gummies and how to enhance an editable, but you will learn the methods that dispensaries use to create dispensary quality edibles. Best of all, the ingredients are all available from online retailers like Amazon or your local market.
Making Dispensary Quality Edibles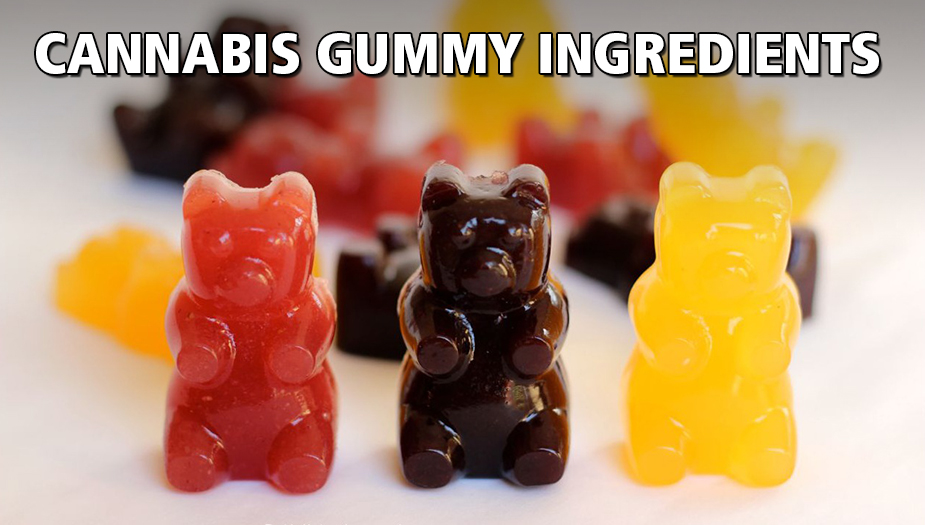 Creating dispensary quality edibles is not tricky. Even more, these shops make millions of dollars selling THC enhanced candies, so they keep their recipes close to their heart. However, we sat down with a leading producer of these candies and, with some begging, got the full secret cannabis gummy recipe.  For example, we have some tips on how to use THC gummies and various ways you can enhance an editable. First, you will need the ingredients and some tools. These are all essential items and should are easy to obtain. Like the molds and thermometer, certain items are reusable and will only need to be purchased once.
Here is what you will need:
Several 50 Count Gummy Bear Mold
10 Grams THC Hash or Bud
150 ML Plastic Syringe or Candy Dipper
Digital Cooking Thermometer
½ and ¼ Cup Measuring Cups
6oz Box Lime Jell-O
1oz Knox Unflavored Gelatin
½ tsp Vegetable Glycerin
Required ½ tsp Mold Inhibitor
½ tsp Liquid Lecithin
Required ½ Cup Liquid Coconut Oil
¼ tsp Lemon Extract
Glass Ball Jar
Pyrex Dish
Tin Foil
Fine Mesh Strainer
Corn Starch
Granulated Sugar
Vegetable Oil Cooking Spray
How To Make THC Gummies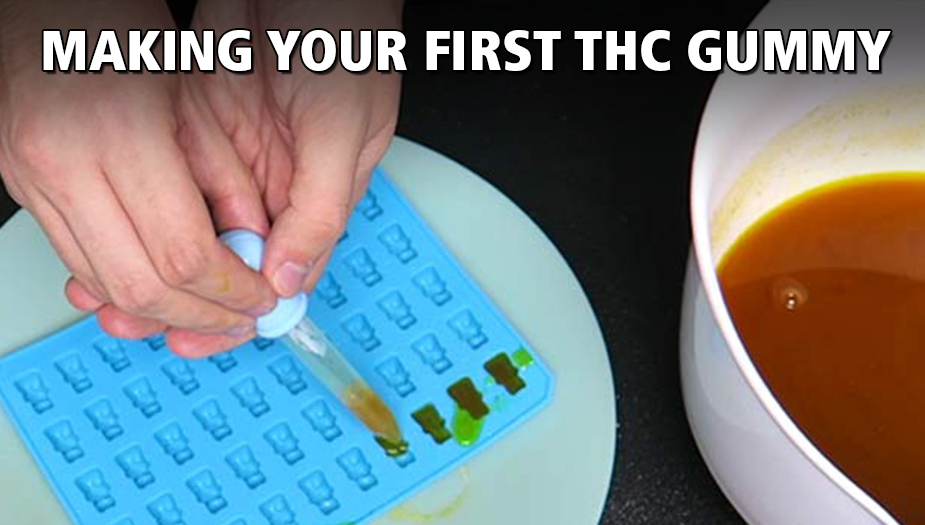 What is the secret to this cannabis gummy recipe? How can they be strongly enhanced? Firstly, the ingredients are simple, and you probably have many of them in your house already. If the secret is not in the elements, then it is in the preparation, correct? Yes, to make dispensary quality edibles, you must follow these directions strictly. Even more, after you finish, we will teach you how to use THC gummies and how to enhance an editable. Ready?
Decarboxylate the hash or bud by grinding and adding to a glass ball jar with 1/2 cup liquid coconut oil and 1/2 tsp liquid lecithin. Put ball jar in Pyrex dish and cover ball jar with foil. Add some water to Pyrex. Put in a 250-degree oven for 2 hours.
Filter infused oil through a fine-mesh strainer. Should have at least 1/4 cup.
Add the Jell-O box, 1/4 cup granulated sugar, and four small packs of unflavored gelatin (1 oz) to the pot. Stir with a non-metal spoon. Add 1/2 cup COLD water and mix well. Let sit to bloom.
Heat Jell-O mix to stove top over medium heat. Add 1/2 tsp vegetable glycerin, 1/4 tsp lemon extract, and 1/2 tsp mold inhibitor. Add a thermometer to Jell-O and heat between 160-170, continuously stirring until incorporated.
Continue to add concentrate infused coconut oil to Jell-O and stir until there is no more separation and fully emulsified. It may take a while to mix.
Spray several 50 count gummy bear molds with cooking spray. Wipe excess off the top and set aside. Spray inside of plastic syringe with cooking spray and wipe along inside.
Take the lubed syringe and suck up Jell-O liquid. Fill gummy molds with Jell-O. Put molds in the freezer for 30 minutes or fridge for an hour.
Remove gummies from the mold. It will be very slimy. Shake in a Tupperware container with some cornstarch until fully coated and not slimy.
Store in the fridge.
How To Use THC Gummies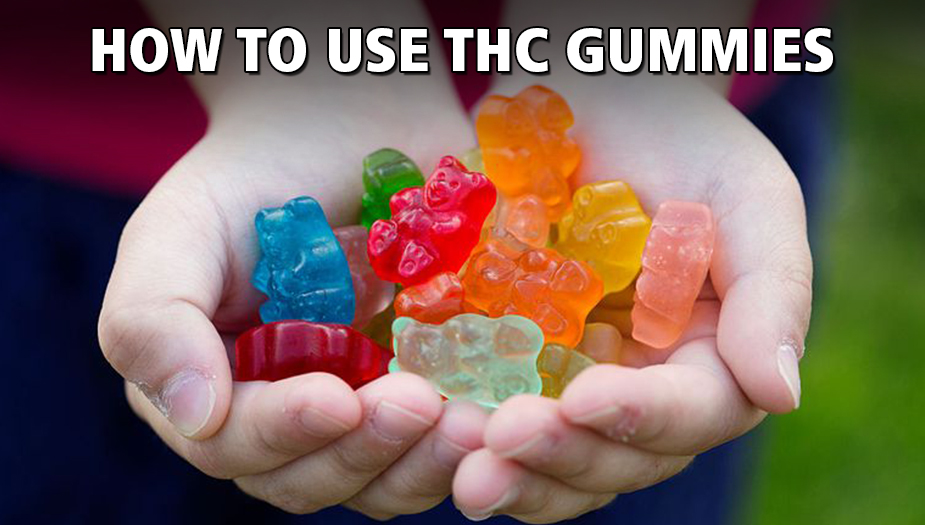 As with all secret recipes, this cannabis gummy recipe might take a few tries to get perfect. For example, dispensary quality edibles have been made for decades by professional chefs for selling in cannabis dispensaries. However, the good news is that is you can cut the recipe in half for smaller test batches. So, you have made your first batch. Finally, do you know how to use THC gummies? Firstly, start slow. Above all, the recipe makes ultra-strong candies. It should only take 2-3 gummies to feel the effect. However, ingesting and smoke or vaping is entirely different. It could take between 30 minutes and 1 hour before you start to feel the effects. So, go slow, and find the right dose for you.
Enhance an Edible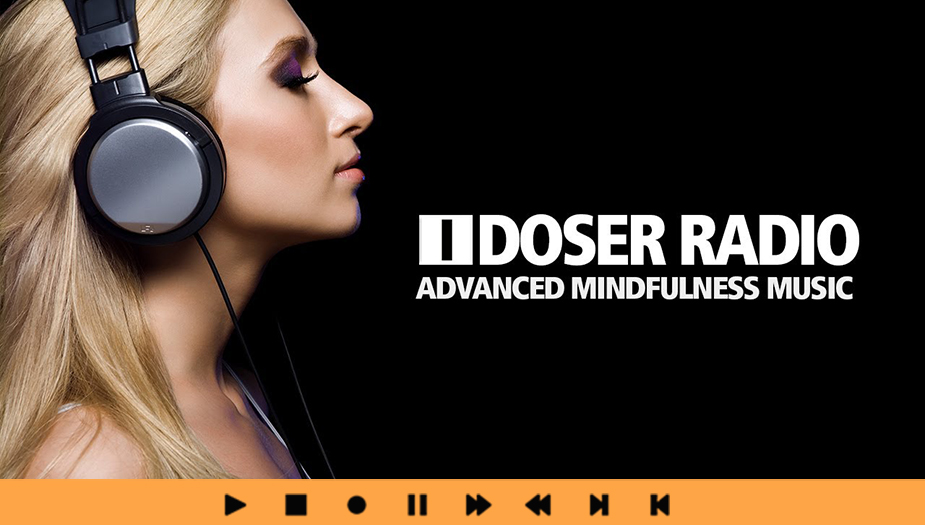 Now you have the ultimate cannabis gummy recipe, and you can make dispensary quality edibles easily. Even more, you know how to use THC gummies and have figured out your perfect personal dose. It is time to learn how to enhance an editable. Firstly, there are many ways you can do this. One of the most popular is using brain-enhancing and tuning music like binaural beats. iDoser.com has been producing enhancement sessions for precisely this kind of thing. Even more, users report that using edibles is significantly stronger when enhanced with these sessions. Some users have even said that edibles can be 2-3 times stronger when enhanced with brain tuning technology. Give it a try, and let us know how your candies came out in the comments!

You now know how to make simple dispensary quality cannabis gummy bears! Therefore, you learned the secrets of dispensary recipes and learned how to make dispensary quality cannabis gummies easily. Finally, you have an idea to enhance your new treats by deciding on the perfect dose and using enhancement technology like iDoser.com.
CLICK HERE TO ENHANCE YOUR EDIBLE FOR FREE!

TO ALL OUR READERS, today we humbly ask you to help our little blog. For over ten years now, BinauralBlog.com has been producing fantastic mindfulness articles. We do not beg for donations, use any intrusive popups, sell any form of user data, or fill our content with ads. How do we sustain ourselves? We need shares, plain and simple. The time has come for us to make a simple request. Please, if you enjoyed this article and want us to keep producing content - use any (or all) of the CIRCULAR SHARE BUTTONS ABOVE to help support our little blog. Thank you from the Binaural Blog, Founder & Team